This is the website of the Dutilh Family Foundation
The Dutilh family originates from Aquitaine, the French Region located in the South West of the country, in particular from places like Bearn and Orthez. Until to date this is the region where most Dutilh's are living.
The Dutch Dutilh family descends from Clairac, the city which its ancestors left in around 1700. At present around ninety descendants live around the world, but most of them still live in The Netherlands, with a large number in both Rotterdam and Amsterdam.
In 1962 the Dutch family established the Dutilh Family Foundation, with three main objectives:
Maintain and support the interaction between members of the family
Stimulate collection and preservation of family heritage
Create a better understanding of the family history
This website is one of the tools to achieve those objectives.

For an anxious moment, it was uncertain whether a Dutilhiteiten volume 51 would ever see the light, given that Editor in Chief Chris presented his final masterpiece in 2018. But keep calm! The board has ensured that a new volume sees the light. Dutilhiteiten carries on…
https://www.dutilh.com/wp-content/uploads/2019/01/kaft_2019_klein.png
1544
1092
Robert Ian Dutilh
http://www.dutilh.com/wp-content/uploads/2014/06/wapen.png
Robert Ian Dutilh
2019-01-01 00:00:09
2020-07-18 11:59:17
Dutilhiteiten 2019
Descendants of Etienne Dutilh (1751-1810) and his brother Jean (1756-1804), gathered in Philadelphia between July 25 and 27 2014. Also present were members of the Dutilh-family in the Netherlands, which descends from Jacques Dutilh (1692-1746), uncle of Etienne and Jean, who moved in 1718 to Rotterdam from Clairac. A report on this event will be published in the next issue of Dutilhiteiten, which will appear on January 1st 2015.
A special issue of the Dutilhities was issued for the occasion of the gathering. A copy of that document can be viewed.
http://www.dutilh.com/wp-content/uploads/2014/06/wapen.png
0
0
Chris E. Dutilh
http://www.dutilh.com/wp-content/uploads/2014/06/wapen.png
Chris E. Dutilh
2014-07-06 19:53:15
2014-09-15 19:50:08
Dutilh descendants unite in Philadelphia
Video-message by Hendrik Dutilh
Hendrik Dutilh, born in Izmir (Turkey) in 1929, is the eldest living male Dutilh, descending from the Clairac Dutilh-family. He still lives in Izmir, where he has been running various businesses in the field of shipping and tourism, first together with his father Ernest Dutilh and, after his death in 1965, together with his younger brother Karel Dutilh. Like his father, Hendrik has been consul for the Netherlands in Izmir, between 1960 and 1995. Karel held that position between 1995 and 2013, the year in which he died during his holiday in France. In 2000 the Dutilh brothers sold their enterprise, Dutilh shipping and tourism Ltd, to continue their operations on a smaller scale as Dutilh shipping and tourism İNC. That company was sold in 2012.
For the occasion of the family-gathering in Clairac, Hendrik has prepared a video in which he thanks the mayor of Clairac and his fellow citizens for their hospitality and for their warm welcome to the family-members.
Hendrik memorizes Pierre Dutilh and his nephew Jacques, who left Clairac in 1692 and 1717 respectively for Amsterdam and Rotterdam. Jean Jacques Dutilh, grandson of Pierre and born in Amsterdam in 1762, left that city in 1786 to settle in Smyrna (Turkey). His descendants have been living in Smyrna/Izmir until the present day, with Hendrik being the last living male descendant left. All these Dutilh's were businessmen, trading with Europe, and in particular with The Netherlands.
Hendrik regrets that due to his age, and because of the long distance between Izmir and Clairac, he cannot be present at the family-reunion.
As the patriarch of the family, he wishes all participants a wonderful event.
http://www.dutilh.com/wp-content/uploads/2014/06/wapen.png
0
0
admin
http://www.dutilh.com/wp-content/uploads/2014/06/wapen.png
admin
2001-01-01 10:10:10
2020-07-18 07:58:40
Clairac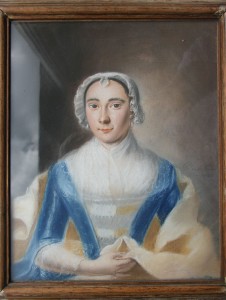 Maria Catharine Dutilh-Carlen (1715-1776). More portraits in the Portrait Gallery.